Gear Manufacturing Capabilities
Service Detail from Overton Chicago Gear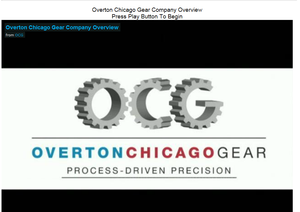 Learn about Overton Chicago Gear's amazing gear manufacturing capabilities in this brief video presentation. One of the founding members of the American Gear Manufacturing Association (AGMA), they custom engineer gear solutions for all major industries in sizes ranging from one inch in diameter up to a gear over twelve feet in diameter, and enclosed gear box assemblies weighing over forty thousand pounds.
Their eighteen state-of-the-art Gear Tooth Grinders provide the versatility to perform both generative and form grinding, including CBN Grinding. Over 100 machine tools – most NC or CNC controlled – allow them to control turning, milling, drilling, broaching, hobbing, shaping, and grinding for improved efficiency.
All of their gears are manufactured to customers' predetermined specifications. Their sales and engineering personnel will assist you in transferring your design from blueprints to cost-effective manufacturing.

Play Gear Manufacturing Capabilities Video
---