FOAMGLAS® Insulation Keeps Heated Oil Tanks Warm
Featured Product from Owens Corning® FOAMGLAS® Insulation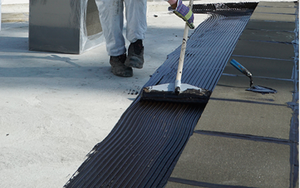 Koole Terminals is a leading independent storage company in North-West Europe headquartered in Zaandam, Netherlands. Their port location in Rotterdam (Pernis) is the base for clients from around the world. The terminal is in operation 24/7 and has a storage capacity of 625,000 m³.
Koole Terminals started with construction of new 30 meter high oil storage tanks with an individual capacity of 30,000 m³. This raised the terminal's total capacity to 1,300,000 m³ after completion in 2017. Each storage tank was installed on FOAMGLAS® insulation.
FOAMGLAS® High Load Bearing (HLB) insulation offers superior insulating properties with a stable and a non-deteriorating insulation efficiency which helps ensure a constant thermal performance over time. This was an important requirement as energy control was a significant criterion for this project. The engineering departments did the economic calculations and calculated an average payback period of twelve to eighteen months.
Learn how FOAMGLAS® Insulation helped keep heated oil tanks warm at Koole Terminals, The Netherlands.