FOAMGLAS® Insulation for Harsh Environments
Featured Product from Owens Corning® FOAMGLAS® Insulation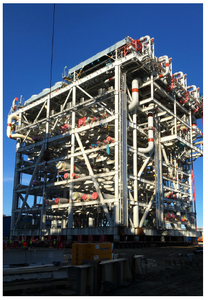 Yamal LNG facility, located in Sabetta on the Yamal Peninsula in Siberia, Russia, is an integrated project, including natural gas production, liquefaction, and shipping. The project consists of an LNG plant with an output capacity of approximately 16.5 million tpy, and utilises the South Tambey Field (with reserves are estimated at 926 billion m³) as a resource base.
The Yamal Peninsula is located in the Arctic Circle; the climate is cold with ambient temperatures that can drop as low as -52ºC. The natural gas is collected from deep below the permafrost and goes through a series of processes to form LNG which is transported by LNG carriers to terminals all over the world. The choice for an adiabatic system with no heat loss or gain that would meet both the required technological conditions and that would withstand the extremely harsh conditions of the Arctic had become a challenge to the project team. Choosing an energy-efficient insulation system was critical. They needed insulation for long-term performance in a harsh environment.
After six months of rigorous screening and comparing various factors including company qualification, product performance, technical reliability, and service capability, YAMGAZ (consisting of Technip, JGC, Chiyoda General contractors, module builders, and insulation subcontractors) chose FOAMGLAS® cellular glass insulation, manufactured by Pittsburgh Corning, as the thermal insulation material for the Yamal project. All installed systems would consist of FOAMGLAS® insulation in combination with Pittsburgh Corning accessories which include adhesives, sealants, and finishes (such as jacketing, coatings, and wraps).
Read the full article by clicking the following link: Read full article