Jobsite Training and Start-Up Support
Service Detail from Owens Corning® FOAMGLAS® Insulation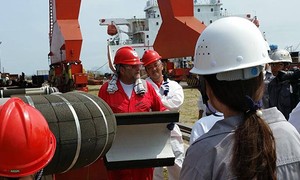 The FOAMGLAS® Insulation Global Training Team provides assistance before the site phase, at the job site, at project start and during construction. We can assist with familiarization in the handling and installation of FOAMGLAS® insulation and accessory products as well as the interpretation and application of FOAMGLAS® insulation installation guide specifications.
The aim of our Global Training Team's start-up support at the jobsite is to ensure that you have the best possible assistance and training from the start. Even experienced insulation contractors can benefit from our engineers being alongside them during a job-start. Shared experiences and knowledge may help improve productivity and profitability. We regularly perform job-start training and support all around the world - North America, Asia/Pacific, Africa, Middle East, Europe, and Latin America.
Contact Us today to plan on-site support for your project.