MQC+ QA/QC analyser to measure oil, fat and water
Featured Product from Oxford Instruments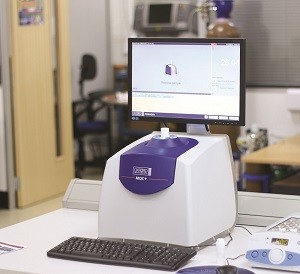 MQC+ is available as three models:
MQC+ 23 is used for smaller samples and high sensitivity applications; for example it is used to measure small amounts of oil applied to artificial fibres and fabrics to enhance their properties.
MQC+ 5 is used for large samples, typically agricultural products; for example, it measures the oil and moisture content in oilseeds. This is important because in some regions the higher the oil content, the more valuable the crop which affects the revenue received by farmers for their harvest.
MQC+ F is used to measure fluorine in toothpaste and minerals, for example.
MQC+ applications include:
Food:
Oil in snack foods
Total fat in chocolate
Fat in foodstuffs
Solid Fat Content (SFC)
Agriculture:
Oil and moisture in oilseeds and their residues
Oil in dried olive paste and oil in dried palm mesocarp
Textile:
Spin finish on fibre, also known as Oil Pick-Up (OPU), Finish on Yarn (FoY), lubricant and avivage
Consumer products:
Lotion on fabric and fluorine in toothpast
Petroleum:
Hydrogen content in fuel
Oil content in waxes
Wax content in petroleum products
Polymers:
Xylene solubles in polypropylene
Plasticiser in PVC
Polymer density and crystallinity
Oil in rubber and fluorine content
Other:
Fluorine in powders (e.g. fluorspar, alumina)
Limestone filler in asphalt