Cold Adhesion Laminating Services
Service Detail from UFP Technologies, Inc.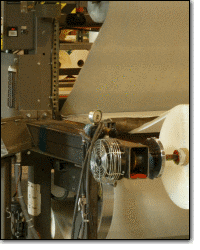 UFP Technologies' temperature controlled, heat assisted laminators allow us to combine an almost limitless number of substrates, adhesives and films together with
foam-tear quality. From double-coated and transfer adhesives to heat assisted
films and substrates, our laminated products maintain a consistent bond
throughout. Pac Foam lamination services can add rubber or acrylic based adhesive backing to nearly any foam, sponge, fabric or film substrate. contact us today for your adhesive lamination requirements!
UFP Technologies is a producer of innovative custom-engineered components, products, and specialty packaging. Using foams, plastics, composites, and natural fiber materials, we design and manufacture a vast range of solutions primarily for the medical, automotive, aerospace & defense, and packaging markets. Our team acts as an extension of customers' in-house research, engineering and manufacturing groups, working closely with them to solve their most complex product and packaging challenges. For our customers, innovation takes many shapes. But each solution is shaped by a level of design, materials and process expertise that is unique to UFP Technologies
---