New Helium Bleed ICP® Pressure Sensor
Featured Product from PCB Piezotronics, Inc.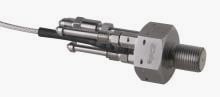 PCB's new Helium Bleed, water-cooled ICP® Pressure Sensor was developed for rocket motor combustion instability measurements. Helium flow increases frequency response of the short connecting passage. Model 123B22 is field serviceable with screw-in replacement water cooling tubes (PCB® Model 065A72). These replacement cooling tubes can easily be swapped out in the field, eliminating the costs and down-time associated with factory repair.

Water flow through the cooling tubes protects against intense heat flow associated with rocket motor environments. This provides a stable operating temperature for the sensor in test environments with rapidly changing temperatures. This high temperature pressure sensor has an operating temperature range of -100 to +250 °F (-73 to +121 °C) and excellent resolution. It features a measurement range of 3,000 psi (20,685 kPa) with a maximum pressure of 5,000 psi (34,475 kPa). Integrated ICP® electronics inside Model 123B22 have a low impedance voltage output capable of being transmitted over long cable lengths. A rugged, 4-foot integral cable is attached to the sensor which terminates in a 10-32 plug connector.