Power Display Panel for System Integration
Featured Product from PCE Instruments / PCE Americas Inc.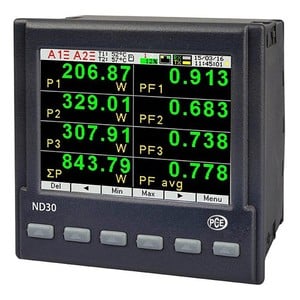 The power display PCE-ND30 can be used to measure 54 parameters in a UI network. In addition to the performance measurement of the power meter PCE-ND30 can detect voltage, current, and harmonics up to the 51st order. The power indicator can 1 or 3 phase are used. It does not matter if the connected load is balanced or unbalanced. All readings are displayed graphically on the display from the power meter. What measurement values are displayed, can be set by the user. This can be done in up to 10 groups with 8 measurement parameters. In addition to displaying the current measured values, the power display can also represent maximum and minimum values.

Two built-up relays can be used for alarming at reduced or crossing borders. Optionally, the user still a 0/4 ... 20 mA analog output and two inputs for PT100 temperature sensors. Also, the power indicator can be equipped with an 8 GB memory and Ethernet interface. The network interface can be accessed on a web interface and the memory of the performance indicator. On delivery the RS485 Modbus interface is installed, on the power meter can be programmed and read.
- Measurement of all parameters of a U / I network
- Harmonics measurement up to 51. order
- 2 x PT100 Input Optional
- RS485 Modbus
- Alarm relay and analog output
- Web interface and data storage optional
- Panel mounting