Analytical Balance PCE-MA 50X
Featured Product from PCE Instruments / PCE Americas Inc.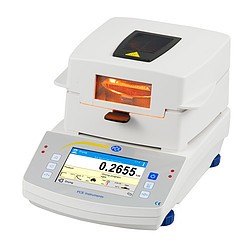 The analytical balance PCE-MA 50X is an innovative solution for the fast and highly accurate determination of moisture in a wide variety of materials. The measuring principle does not require the generation of a characteristic curve and the analytical balance is immediately ready for use after assembly.
Based on the well-known and recognized Darr sample, the analytical balance uses weighing technology from the range of analytical balances, which enables resolution in 0.1 mg increments (0.0001 g). This also corresponds to a moisture resolution of 0.0001%. In this case, a
very high measurement accuracy can be achieved with a measurement uncertainty of only 0.001% moisture.
In addition to the high measuring accuracy, the analytical balance offers further advantages. The opening and closing of the sample chamber takes place on the analytical balance without contact and is fully automatic. This reduces measurement errors and ensures hygienic, comfortable and safe work. The graphical 5" color touch display allows intuitive use in different languages. The analytical balance has several databases in which users, products, customers, drying parameters and up to 5,000 drying analyzes can be stored. A detailed documentation of the material samples is thus created quickly and easily. The adaptation of the drying processes can be adapted individually to the requirements of the different materials.

- Readability 0.1 mg = 0.0001 g = 0.0001% Moisture
- Representation of material moisture content in% M / Dry matter% D / Water content (wood moisture)% R
- Round 450 Watt IR lamp
- Drying temperature up to 160°C / 320°F in 1°C / 1.8°F adjustable
- Selectable heating processes (standard / fast / gentle / stepwise)
- Selectable termination criteria (timeout / manual / def. Weight loss within a def. Time)
- Maximum load of sample 50 g / 0.11 lbs
- Aluminum sample cups Ø90 mm / 3.5 in, h = 8 mm / 0.3 in
- 5" color touch display with 14 menu languages
- Memory up to 5,000 humidity determinations last performed
- User database for up to 100 users
- User rights assignable by the admin
- Customized adjustment of the precision balance such as menu language
- Customer database for up to 100 customers
- Drying settings for up to 5,000 products
- Approx. 90 stored product-specific drying processes such as for ABS / PET / rice and much more
- USB / RS232 / LAN interface