Cable Locator PCE-CL 20
Featured Product from PCE Instruments / PCE Americas Inc.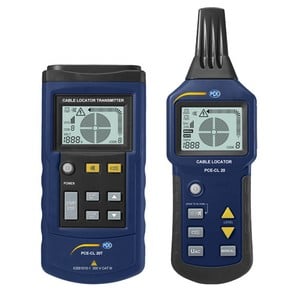 PCE-CL 20 is a cable locator used to detect live and voltage-free electrical wires. This cable detector also can be used to locate metallic and non-metallic gas or water pipes, identify short circuits, and follow lines inside walls or under flooring.
The PCE-CL 20 wire tracer consists of two individual units: a signal generator (or transmitter) and a receiver. Both units are equipped with bright LED lights for use in dark and dimly lit spaces. In addition, the receiver has a backlit LCD screen.
- Output signal: 125 kHz
- Compatible with one- or two-pole circuits
- Automatic, manual and UAC measuring modes
- Locates hidden cables, wires or pipes
- Helps identify short circuits and fuses
- Includes alligator clips, measuring tips, test leads and ground rod