Concrete Hammer PCE-HT 224E w Digital Display PSI
Featured Product from PCE Instruments / PCE Americas Inc.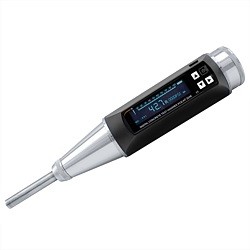 The hardness tester is a measuring tool for testing the strength of concrete. The hardness tester is measured according to the Schmidt principle. According to this measurement method, the quality of concrete can be measured with the hardness tester. Thus, the hardness tester finds its essential application in the construction and in the construction sector. The built-in mechanism on the hardness tester always ensures the same impact energy of 2.207 Nm. Displays PSI.
In addition to testing concrete, the hardness tester can also store measured data. The stored measurement data can be transferred from the hardness tester to a PC after a measurement run. For this, the mini-USB interface is available on the hardness tester. The evaluation of the measurements from the hardness tester is carried out with the supplied PC software.
- OLED for reading the measured values

- USB interface for connection to a PC

- Measuring range 10 ... 100 N / 2.2 ... 22.5 lbs / mm²

- Displays PSI

- Measurement of the hardness of concrete

- Data storage for later analysis

- Rechargeable battery for mobile use