Gauss Meter PCE-MFM 3000
Featured Product from PCE Instruments / PCE Americas Inc.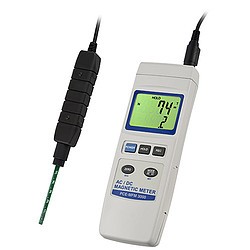 PCE-MFM 3000 is a handheld gauss meter that detects both static (DC) permanent magnet (rare earth) magnetic and dynamic (AC) electromagnetic fields (EMFs) and displays measurement results in gauss (G) or milli Tesla (mT). This portable magnetic field measuring device comes with an external sensor and features an RS-232 port for downloading data to a PC.

Meter can be calibrated by an ISO lab to verify accuracy, see accessories tab for information.

- Measurement range: 0 ... 30000 G / 0 ... 3000 mT
- Accuracy: ± 5%; + 20 digits (static) / + 10 digits (dynamic)
- Resolution: 0.1 G / 0.01 mT
- Detects both static (DC) permanent magnetic and dynamic (AC) electromagnetic fields (EMFs)
- Displays measurement results in gauss (G) or milli Tesla (mT)
- Comes with an external sensor
- Features an RS-232 port for downloading data to PC
- Max, min, data hold and auto shutdown power-saving functionality
- Ideal tool for checking magnetic valves, relays and air-core transformers
- Useful for assessing permanent magnets and rare earth magnets made of Neodymium Iron Boron (NdFeB), Samarium Cobalt (SmCo), Alnico and Ferrite (also known as ceramic)
- The external sensor's small, flat tip allows easy access through gaps and into tiny spaces
- Measures through casings, coverings and housings, eliminating the need to dismantle parts for inspection