Hygrometers
Featured Product from PCE Instruments / PCE Americas Inc.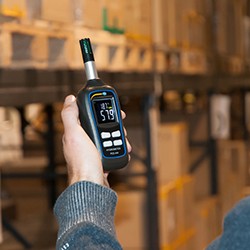 A hygrometer is a device used to measure humidity. Many hygrometer products also measure temperature. A hygrometer that measures both humidity and temperature often is referred to as a thermo-hygrometer. PCE Instruments (PCE) offers a wide variety of hygrometer products used to measure the relative humidity of the air.
Since humidity is an important factor in many sectors including but not limited to manufacturing, agriculture, construction, restoration, remediation and heating, ventilation and air conditioning (HVAC), PCE also carries a number of hygrometer devices designed for specific applications such as measuring the humidity in bales of pressed hay or in rolls of paper. A hygrometer also can be used to evaluate heat stress risk in hot work environments like boiler rooms, factories, construction sites and commercial bakeries. To accurately assess heat stress risk, a hygrometer capable of detecting and classifying temperature in relation to the amount of moisture content in the air is recommended. The global standard description for heat stress is the Wet Bulb Globe Temperature Index (WBGT).
A combination hygrometer / thermometer, or thermo-hygrometer, can be used to verify the integrity of the cold chain during the transport and warehousing of refrigerated food and pharmaceutical products. This versatile and popular style of hygrometer also is ideal for evaluating the performance of HVAC systems in industrial, commercial and residential properties. If the humidity indoors is too high, mold can occur. Certain types of mold cause respiratory problems and other negative health effects for people living or working in the surrounding environment. In addition, mold that has permeated into the walls or roof of a structure must be removed for safety reasons. Mold remediation and removal, also called mold damage restoration, can be a costly endeavor, which is why preventative monitoring of the humidity indoors is preferable whenever possible.
For more information on PCE's hygrometers and humidity measurement instruments, visit https://www.pce-instruments.com/english/measuring-instruments/test-meters/hygrometer-kat_40062_1.htm