Industrial Borescope PCE-VE 370HR3
Featured Product from PCE Instruments / PCE Americas Inc.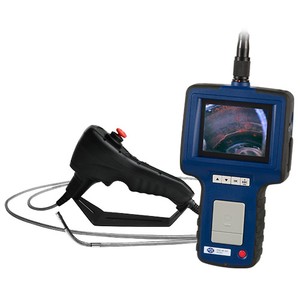 The PCE-VE 370HR3 videoscope easily captures high-quality photographic evidence of internal structures. This waterproof camera features a four-way articulating cable, five LED lights, 2x zoom, plus boost functionality for improved image quality.
The borescope stores the recorded images and videos directly to an SD card memory (included), allowing easy transfer to a PC. The 3 m / 9.8 ft cable length and 6.0 mm / 0.24 in diameter allow the video inspection camera unique access to view the insides of walls, pipes, vents, ducts, engines and machinery, thus eliminating the need for costly and time-consuming dismantling. Mechanical engineering, manufacturing, automotive, aviation, construction, plumbing and heating, ventilation, air conditioning and refrigeration (HVACR) professionals alike find this video inspection camera useful in a variety of applications.
For more information about borescope products offered by PCE Instruments, visit www.pce-instruments.com.