Industrial Borescopes
Featured Product from PCE Instruments / PCE Americas Inc.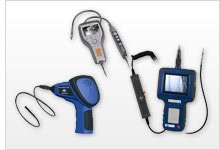 See inside walls, drains, sewer pipes, heating vents, air ducts, furnaces, motors, pistons, gears, valves, compressors, boilers, condenser tubes and other hard-to-reach places quickly and easily with an industrial borescope inspection camera from PCE Instruments.
Before purchasing an industrial borescope, identify what product features are required for your application. Consider aspects such as:
Rigid or flexible cable
Diameter and length of cable
Ingress protection (IP) rating of cable
Articulation or side-view mirrors
Hook and magnet attachments
Photo and video resolution
For more information on purchasing an industrial borescope, visit https://www.pce-instruments.com/english/measuring-instruments/test-meters/industrial-borescope-kat_40041_1.htm.