Inspection Camera PCE-VE 800N4
Featured Product from PCE Instruments / PCE Americas Inc.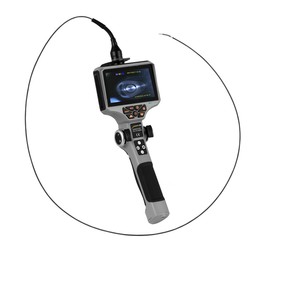 Inspection Camera PCE-VE 800N4
Inspection camera diameter 2.8 mm / For inspection of machine parts, cavities ... / Dimmable LED lighting / 4-way camera head / Data storage / IP58
The inspection camera has a 1.5 m / 4.9 ft long endoscope cable. With a diameter of only 2.8 mm, cavities with the smallest access can be viewed with the help of this inspection camera. The camera head of the inspection camera can move freely in 4 directions. Especially in the maintenance of engines, turbines, etc., the high-resolution display from the inspection camera offers a good view of cavities and hard-to-reach places. The moveable camera has a resolution of 400 x 400 pixels. The field of view is 80°, which means that with a relatively short distance to the object to be inspected, very large images can still be taken with the inspection camera. All recordings from the inspection camera can be saved as an image or video. This helps to document damage to components precisely.
The inspection camera is supplied with a Li-Ion battery and can optionally also be operated with a power pack. The degree of protection from the camera cable is IP58. As a result, the inspection camera can also be used under difficult and harsh industrial environments.
General information about the inspection camera
:
The inspection camera was developed in 1806 by the German doctor Philipp Bozzini for medical diagnostics. The first version was rigid and used a candle as a light source. Over the years, the inspection camera has become an important component in many different areas due to continuous further development. A very important area of application is still medicine, here the inspection camera is not only used for examination, it is possible to insert micro-tools through built-in channels, which makes the inspection camera a multifunctional tool and enables operations in difficult to access areas.
Another very important area of application for the inspection camera is the technical area, whether in the automotive industry for checking engines, in the sanitary area for examining drains or in building protection for checking houses for pests, in all of these areas the inspection camera is essential. The inspection camera owes its great popularity to the many different versions available on the market today. The basic types are the rigid inspection camera or the flexible inspection camera.

- 2.8 mm camera head
- 1.5 m / 4.9 ft endoscope cable
- 4-way camera
- 5" monitor
- Image and video memory
- IP 58 camera cable
- 400 x 400 pixel image resolution
- 5 ... 50 mm focus distance