Laser Distance Meter PCE-LDS 70
Featured Product from PCE Instruments / PCE Americas Inc.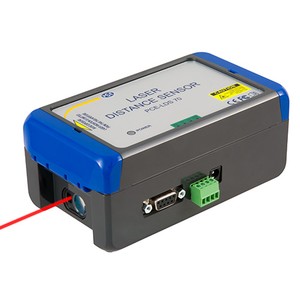 Laser meter PCE-LDS 70
Fixed position rangefinder / With laser measuring principle / Measuring range up to 70 m (230 ft / 2760 in) / RS232 interface for control / Robust housing for industrial applications
With the laser distance meter PCE-LDS 70, you can measure fill levels of containers, positions of workpieces on conveyor belts or thicknesses of rollers. You can also store and evaluate the data on your PC or connect the laser meter PCE-LDS 70 for control and readout to a PLC. The application of the rangefinder is diverse. If you want to connect the rangefinder to a PLC or small controller, you do not need a PC to control it. Simply use a free RS232 interface on your PLC. A high accuracy of ± 2 mm or ± 0.08 inches ensures exact measurement and control.
The sighting of the target takes place with the help of the laser beam. This ensures correct alignment with the object to be measured. Using the supplied software, data can be read out in real time and then exported for standard spreadsheet programs.
- Easy alignment
- Accuracy of ± 2 mm or ± 0.08 inches
- RS232 interface
- Robust housing
- Measuring range up to 70 m / 230 ft / 2760 in
- Power supply 9 ... 28V DC
- Measuring rate from 0.5 s
- Small dimensions
- Incl. factory calibration certificate