Material Thickness Meter PCE-CT 100N
Featured Product from PCE Instruments / PCE Americas Inc.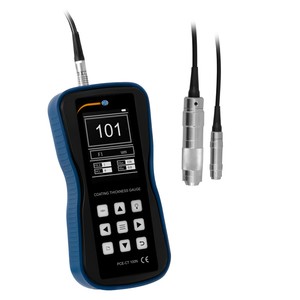 Material thickness meter
PCE-CT 100N
Surface tester for ferrous and non-ferrous metals / Very compact size / Non-destructive, precise measurements / Data transmission via USB and Wifi / Simple operation / Uncomplicated and reliable
The surface tester works according to the magnetic inductive (ISO 2178) and the eddy current method (ISO 2360). These methods supported by the surface tester are used for the non-destructive testing of materials. The surface tester is used to measure the thickness of magnetically neutral layers on a magnetic or non-magnetic base material.
The surface tester is ideal for reliable layer thickness measurements on-site. With the external probe, the layer thickness can be measured quickly and easily, even in hard-to-reach places. The surface tester was developed for non-destructive, fast and precise layer thickness measurements and is easy to use. Measured data can be easily transferred to a PC using a USB data storage device or via WiFi.
The surface tester is used in particular in the finishing industry, electroplating, ship and bridge construction, aircraft construction and the machine and chemical industry.

- Illuminated touch keyboard
- Measurement data storage for up to 500 data
- One-point and multi-point calibration
- Single measurement and continuous measurement
- Data transfer via wifi and USB
- Two different probes for NFe and Fe