Moisture Meters
Featured Product from PCE Instruments / PCE Americas Inc.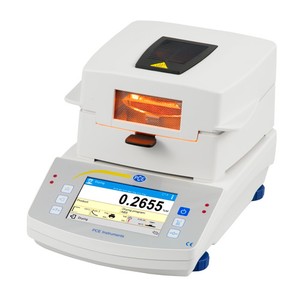 A moisture meter can measure the moisture content of everything from the air (relative humidity) to construction and building materials (concrete, wood) to biomass and agricultural products (hay, straw, grain, corn, beans, pellets) to solid waste (pulp, slurry) and beyond. Many moisture meter devices can also measure temperature. The moisture measurement range of each moisture meter varies depending on the model.
For some applications, moisture measured with or without contact plays an important role. A high-quality moisture meter, like the PCE-MA 50X pictured, is designed to open and close without contact and is fully automatic. Whereas a pin-type moisture meter is perfectly suitable for construction materials, some food regulations may require a non-contact moisture meter. Also, some applications may require a hand-held moisture or humidity meter and others may require a fixed installation. Both types are available at PCE Instruments.
For more information about the moisture meter products offered by PCE Instruments, visit www.pce-instruments.com.