Particle Counter PCE-PQC 13US Incl. Calibration
Featured Product from PCE Instruments / PCE Americas Inc.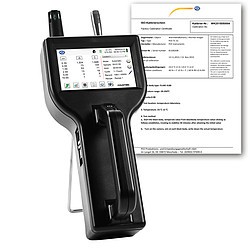 The particle counters of the PCE-PQC 1xUS series measure the concentration of particles such as dust, soot, pollens, and many other aerosols in the air. These particle counters were developed to accurately determine the degree of pollution of the air. Pollution is mainly generated by combustion, material processing, manufacturing, power generation, vehicle engine emissions and the construction industry and may be invisible to the eye.
The PCE-PQC 1xUS series particle counters allows the user to measure the exact amount of dirt particles in the air. Secondarily important is the degree of air pollution with pathogenic particles such as soot, which are released by heavy industry and especially by diesel vehicles without special filtering of the air. These dispersion particles are responsible for many respiratory issues, shortness of breath, bronchitis, asthma, stroke, heart attack and thus reduced labor productivity. The particle counters of the PCE-PQC 1xUS series operate in different modes (real-time, cumulative, differential, and mass concentration) and display the results on the display with the ability to graph trends and save data remotely
- Handheld, portable, light weight with kick stand
- Battery life >10 hours with continuous operation / Battery life >8 days in sleep mode
- Internal memory up to 45,000 records
- Particle sizes up to 25 μm
- Color display with touch screen
- 3 measuring channels, upper 2 channels can be adjusted
- ISO 14644-1, EU GMP Annex I, FS 209E
- Mass concentration mode (adjustable: PM 2.5 and PM 10 e.g.)
- Ethernet, USB, PC software included, and WiFi Optional
- Incl. calibration certificate traceable to NIST ISO 21501-4