Thickness Meter PCE-TG 300
Featured Product from PCE Instruments / PCE Americas Inc.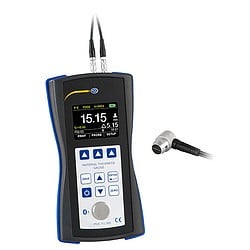 Thickness meter PCE-TG 300
Large measuring range / Up to 600 mm / Pulse-echo or echo-echo mode / For all homogeneous materials / Print function via Bluetooth / USB connection
The PCE-TG 300 is a wall thickness meter with special sensors for various applications. In general, the wall thicknesses of all homogeneous materials can be measured with the PCE-TG 300. For damping or scattering materials such as plastic or cast a special sensor is available. An angled 90° sensor also enables measurements at hard-to-reach measuring points. The speed of sound can be set freely on the wall thickness meter PCE-TG 300 and thus adapted to a wide variety of materials.
The measured values are displayed directly on the easy-to-read TFT color display. Due to the internal memory, which can be read out via the optionally available software, different measuring points can be clearly stored. The non-destructive ultrasound measuring method enables the measurement even on end products. Thanks to the Echo-Echo working mode, even coated workpieces can be measured.
- Large measuring range
- Various sensors available
- Battery operation
- Error and voids detection
- Internal measurement data memory
- Print via Bluetooth