Toxic Gas Detector PCE-FGD-TOX toxic gases & O2
Featured Product from PCE Instruments / PCE Americas Inc.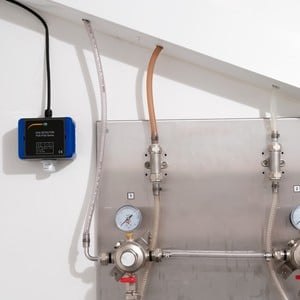 Gas detector for toxic gases / standard signal output / IP65
robust housing / sensor element interchangeable
Gases and gas mixtures have become indispensable in industry and research. The PCE-FGD series gas detectors are particularly suitable for monitoring the industrial gases required in many industries. Processes such as combustion may produce harmful toxic gases, which should be monitored to protect people. The gas detectors of the PCE-FGD series are also particularly suitable for monitoring the gases generated during digestion processes, such as in sewer shafts or silos. The risk of carbon dioxide poisoning, such as is used in the beverage industry or for the better flourishing of fruit and vegetables in greenhouses, can be significantly reduced with these gas detectors. The fact that nitrogen, for example, displaces atmospheric oxygen,
The problem-free connection of the gas detectors is guaranteed by the already integrated standard signal output 4… 20 mA / 2… 10 V to existing process systems. The required operating voltage of the gas detectors of 16 ... 19 V DC is already provided in many systems and systems. By connecting the gas detectors to the corresponding gas warning systems, visual and acoustic alarms can be triggered if the limit values are exceeded or undershot.
The IP65-protected housing of the gas detectors of the PCE-FGD series enables installation in humid sewer shafts for monitoring hydrogen sulfide, for example, as well as in carbon dioxide stores, which are often found in dispensing systems. The mounting holes already in the robust ABS housing allow mounting directly on a wall. Optionally, mounting brackets or a mounting plate can be purchased to make the gas detectors easier to use.
- Toxic gas sensors
- Degree of protection IP65
- Standard signal output 4 ... 20 mA / 2 ... 10 V
- Interchangeable sensor element