Vibration Analyzer PCE-VT 2700S w. ISO Calibration
Featured Product from PCE Instruments / PCE Americas Inc.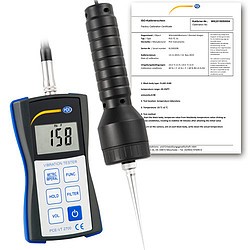 Handheld vibration meter PCE-VT 2700S
Handy entry-level machine into the vibration monitoring of machines and plants / The vibration meter determines the three important vibration parameters
PCE-VT 2700S is a factory-calibrated (certificate included) portable digital battery-powered handheld vibration analyzer used to monitor the radial and axial vibration of industrial machines, equipment and parts such as bearings and gearboxes. The PCE-VT 2700S comes with a special attachment to adapt the probe for handheld use.
Small and lightweight, this handheld vibration analyzer features peak hold functionality. Acceleration, velocity and displacement measurements are displayed directly on the handheld vibration analyzer's easy-to-read 4-digit LCD screen, making the device an especially handy inspection tool for maintenance staff and contractors in the field and on the manufacturing production floor.
- ABS plastic enclosure
- Low battery indicator
- Displays last measured value
- Includes a factory calibration certificate
- Comes with 75 mm / 2.95" long pin probe and a special attachment to adapt the probe for handheld use
- 1.5 m / 4.92 ft long cable
- RS-232 interface allows data transfer to PC (optional analytical software available - see accessories)
- Assists with vibration severity evaluation according to ISO 2372, BS 4675, VDI 2056 and ISO 10816