Ethernet Extender
Product Announcement from PCN Technology, Inc.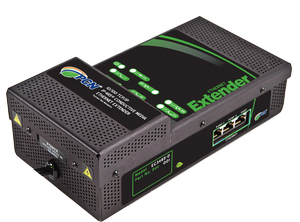 PCN's advanced-intelligence IP (also called Ethernet) extenders extend the working distance of standard Ethernet by enabling two-wire Ethernet or Ethernet over copper wire, expanding access far beyond the traditional 100 meters (330 feet). By utilizing distributed intelligence and mapping capabilities, our Ethernet extenders can sit at the edge of a network and provide expanded capacity up to double the original distance. Working in conjunction with Ethernet switches and routers, our Ethernet extenders operate more intelligently than those currently on the market, many of which compromise
security by using data tunneling and other workarounds.
Whether you already use two-wire Ethernet or Ethernet over copper wire and want to further expand
your capacity, or are seeking to upgrade existing fiber optic Ethernet access without costly renovations
and modifications, PCN's Ethernet extenders are the most reliable solution for your important and
secure data. They're also the best way to increase the access of serially-connected devices to the
Internet "cloud." They represent the most efficient use of existing resources and infrastructure,
combining an advanced solution to connectivity and application expansion with the ease of drop-
in hardware. In conjunction with PCN's full equipment range for expanding IP capacity with minimal
expenditure in infrastructure upgrades, our Ethernet extenders keep data moving quickly and securely.
Our Ethernet extenders and other network solutions change the traditional role of serial cables, twisted
pair networks, and other hardware. PCN allows you to make the best possible use of your installed
infrastructure, simplifying wiring and networking while increasing access and communication.
---