Your Narrow Web Curing Solution: BroadBeam CE
Product Announcement from PCT Engineered Systems, LLC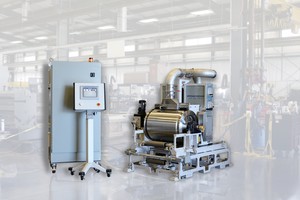 Electron Beam (EB) technology has been used in commercial printing and converting applications for more than 25 years. It has been proven to be safe, reliable and effective. EB systems harness the power of electrons to provide efficient curing of inks, coatings and adhesives with little or no substrate heating.
Traditionally EB systems have been an option available only to large or complex web setups. This is no longer the case: the innovative minds at PCT Engineered Systems have created an EB system that is superbly suited for narrow web installations. By combining the compact footprint of a Comet E-beam emitter with PCT's patented Integrated Shield Roll, the resulting solution extends several powerful benefits of EB to narrow web printers, including:
• Stable Web Support
• Web Temperature Control
• Inerting Volume Minimization
• Easy Access
• Small Footprint
----
Narrow Web EB System Specifications
Web Press Width: Up to 400mm
Press Speed: Up to 100 mpm (30kGy dose)
EB Voltage Range: 90 to 180kV
----
Is EB Curing Right For Your Business?
Situations where EB curing provides the most impactful results include:
• The curing of thick and/or high density ink layers is needed
• Supplemental curing of UV inks is required
• Food products or materials must be packaged with no potential for photoinitiator migration
• Adhesive lamination is a component of the printing/curing process
• Cold foil transfer is a component of the printing/curing process EB offers several advantages over UV:
• Needs no photoinitiator in printing inks, coatings or adhesives
• More effectively penetrates opaque inks and substrates
• Provides higher conversion
• Offers more consistent output
• Requires far less energy
• Delivers a much cooler curing process
----
Specific Applications That Can Benefit From EB Include:
• Higher Density White and Black Inks
• Film Label Applications
• Laminations
• Heavier Rotary Screen Applications
• Specialty Inks: Scratch Off, Metallic, Magnetic, Phosphorescent/fluorescent, Identity/Security
Can EB Technology improve the performance of YOUR business? Call us for a free consultation!
----------------------------------------------------------------------------------------
Please contact us for more information:
Email:
General Information: PCT@TeamPCT.com
Human Resources: HR@TeamPCT.com
Sales and Marketing: Sales@TeamPCT.com
Phone: (563) 285-7411
PCT Engineered Systems, LLC
8700 Hillandale Road
Davenport, IA 52806
---