High-density, direct connections
Featured Product from PHOENIX CONTACT USA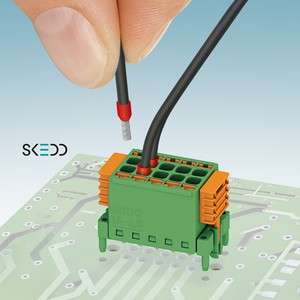 Phoenix Contact now offers direct plug-in connectors in a double-row configuration, ideal for high-density PCB connections. The new SDDC 1.5 connector system, featuring "SKEDD" plug-in technology, can accommodate four to 32 conductors.
SKEDD technology enables direct connection to the PCB via through-contacted bore holes, without the need for tools or an additional header. The elimination of the header and the soldering process reduces component and process costs for the user.
Wires can be terminated to the connector with the popular push-in spring connection. Solid and stranded wires with a ferrule can be pushed directly into the terminal block without opening the spring clamp. To remove the wires, the user simply presses the orange spring lever with a standard screwdriver.
The SDDC 1.5 connector range has a 3.5-mm centerline and can accommodate wires from 24 to 16 AWG. It is rated for currents up to 8 A at 300 V UL. Like all SKEDD direct connectors, the new series offers the convenient push-in spring connection.Learn more at: www.phoenixcontact.com/skedd.
About Phoenix Contact
Phoenix Contact develops and manufactures industrial electrical and electronic technology products that power, protect, connect and automate systems and equipment for a wide range of industries. Phoenix Contact GmbH & Co. KG, Blomberg, Germany, operates 50 international subsidiaries, including Phoenix Contact USA in Middletown, Pa.
For more information about Phoenix Contact or its products, visit http://www.phoenixcontact.com, or call technical service at 800-322-3225, e-mail info@phoenixcon.com.