New Safety Switch contact-free and coded PSRswitch
Featured Product from PHOENIX CONTACT USA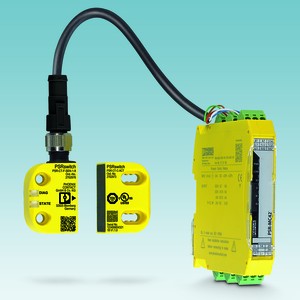 Middletown, Pa. – The PSRswitch is Phoenix Contact's new safety switch for smart door safety and position monitoring in machines and assembly lines. When combining the PSRswitch with the PSR-MC42 PSRmini safety relay, machine builders can take advantage of IO-Link diagnostics to easily adapt their safety system for an IIoT-enabled future.
Capable of connecting up to 30 sensors in a series while achieving SIL 3/PLe, the PSRswitch gives Phoenix Contact its first safety sensor, giving machine operators a greater level of protection with simple connectivity. The PSRswitch offers an easy RFID non-contact safety door switch system with M12 connections. The safety switch can be connected in a series with Y distributors, bridge plugs, and SAC cabling, making installation of these devices convenient and flexible.
The PSRswitch is ideal for small to midsize machines, conveyor systems, or robot manufacturing cells with multiple access doors or maintenance panels that require safe shutdown of stored hazardous energy. With the addition of the PSRswitch series, Phoenix Contact now offers a full safety solution, including SAC cabling, compatible safety relay units, and many other products for advanced automation applications.
For more information on the PSRswitch, visit www.phoenixcontact.com/psrswitch.
About Phoenix Contact
PHOENIX CONTACT develops and manufactures industrial electrical and electronic technology products that power, protect, connect, and automate systems and equipment for a wide range of industries. Phoenix Contact GmbH & Co. KG, Blomberg, Germany, operates 50 international subsidiaries, including Phoenix Contact USA, Inc., in Middletown, Pa.