New triple-rated IECEx, ATEX, & CID2 HazLoc relays
Featured Product from PHOENIX CONTACT USA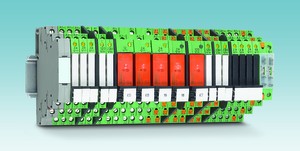 The first-ever slim relay family with triple ratings for hazardous locations
Phoenix Contactnow offers the only electromechanical slim relay family with triple ratings for IECEx, ATEX, and Class I, Division 2 hazardous locations. While Phoenix Contact has offered dual-rated relays that meet both the European and American standards since 2015, the relays now also meet the IEC criteria for applications around the globe.
The HazLoc editions maintain the streamlined design and ease of use that are standard for Phoenix Contact relays. The single-pole, double-throw relays measure 6.2-mm wide, while the double-pole, double-throw relays are 14-mm wide. The product offers replaceable electromechanical options for easy maintenance.
The relay modules offer an exclusive PT push-in and screw connection, and are compatible with all other PLC relay accessories. The product line has expanded to include both 6 A and 10 A models.
Hazardous gas and vapor are common in many industries, from wastewater treatment plants to pharmaceutical production. These environments are not suitable for components that can provide a source of ignition, so it is crucial to ensure reliable, safe products are used to prevent an accident. The potted PLC.../EX relays eliminate the need for costly explosion-proof enclosures, allowing customers to use one relay design virtually anywhere in the world.
Learn more at www.phoenixcontact.com/hazlocrelays.
About Phoenix Contact
Phoenix Contact develops and manufactures industrial electrical and electronic technology products that power, protect, connect and automate systems and equipment for a wide range of industries. Phoenix Contact GmbH & Co. KG, Blomberg, Germany, operates 47 international subsidiaries, including Phoenix Contact USA in Middletown, Pa.
For more information about Phoenix Contact or its products, visit www.phoenixcontact.com/hazlocrelays, or call technical service at 800-322-3225, e-mail info@phoenixcon.com