SafetyBridge Technology for Axioline format
Featured Product from PHOENIX CONTACT USA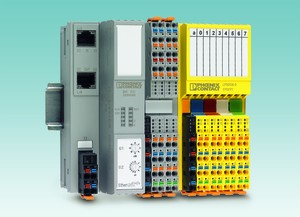 Functional safety for performance I/O system
SafetyBridge Technology now available for Axioline format
Phoenix Contact's SafetyBridge Technology (SBT) is now available on the Axioline F I/O system. The new SafetyBridge I/O modules (logic, 8-point input, and 8-point solid-state output) record and output safety-related signals for easier and more flexible safety applications.
SBT can operate as an upgrade to an existing line or a replacement for a fail-safe PLC on a new build. SBT is a flexible solution independent of a particular control system and network. It can be integrated into existing networks using a decentralized distribution strategy. The distributed logic module serves as an alternative to expensive integrated safety processors onboard the PLC.
Axioline F features push-in terminals for quick wiring and front-facing DIP switches for easy configuration and module identification. It does not require a safety PLC or safe fieldbus system, making it a cost-effective and flexible solution.
For more information, visit: www.phoenixcontact.com/safetybridge.
About Phoenix Contact
Phoenix Contact develops and manufactures industrial electrical and electronic technology products that power, protect, connect and automate systems and equipment for a wide range of industries. Phoenix Contact GmbH & Co. KG, Blomberg, Germany, operates 47 international subsidiaries, including Phoenix Contact USA in Middletown, Pa.
For more information about Phoenix Contact or its products, visit http://www.phoenixcontact.com/safetybridge, or call technical service at 800-322-3225, e-mail info@phoenixcon.com