Worry-free power without the use of batteries
Featured Product from PHOENIX CONTACT USA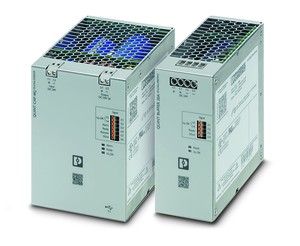 De-glitch your control system using the QUINT CAP or QUINT BUFFER module
Phoenix Contact's new QUINT CAP and QUINT BUFFER modules provide several seconds of backup time, starting at less than 20 milliseconds after the power loss, to critical applications. These new modules are the ideal solution for applications that cannot lose power for even the slightest power disturbance. These battery alternatives use capacitors, which give them a long service life and mean time between failure (MTBF). This creates worry-free power, without the need for an uninterruptible power supply (UPS), for sensitive devices that could reboot with a short interruption of power.
The maintenance-free QUINT CAP modules bridge cyclical failures lasting up to 30 seconds. The modules combine an electronic switch-over unit and maintenance-free supercapacitor storage in the same housing. The lockable USB interface for connection to higher-level controllers makes it convenient to safely shut down the PC. The QUINT CAP uses high-density supercapacitors, which provide a buffer time of up to 30 seconds. These modules have a long service life of up to 20 years with an MTBF of more than 1.3 million hours and 500,000 charge/discharge cycles.
The compact QUINT BUFFER modules bridge main failures lasting several seconds for all applications, even those in the most extreme temperature ranges. The QUINT BUFFER module combines an electronic switch-over unit and maintenance-free electrolytic capacitor storage in the same housing. The QUINT BUFFER has a compact design with a wide temperature range of -25 to +70 degrees C, with a start-up temperature of -40 degrees C. These modules also have adjustable "ready" activation thresholds that create the ability for a soft start using a low-wattage power supply.
Learn more at www.phoenixcontact.com/worryfreepower.
About Phoenix Contact
Phoenix Contact develops and manufactures industrial electrical and electronic technology products that power, protect, connect, and automate systems and equipment for a wide range of industries. Phoenix Contact GmbH & Co. KG, Blomberg, Germany, operates 50 international subsidiaries, including Phoenix Contact USA in Middletown, Pa.
For more information about Phoenix Contact or its products, visit http://www.phoenixcontact.com or call technical service at 800-322-3225, e-mail info@phoenixcon.com.