Cricket Intensified Image Adaptor
Featured Product from PHOTONIS Technologies SAS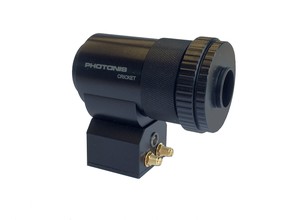 Photonis Introduces Cricket Intensified Image Adaptor
This plug-and-play adaptor from Photonis can be attached to any scientific camera to intensify images in the 200 to 900nm range. Attached via standard C-Mount, Cricket is designed to simply connect to your existing camera in order to provide an intensified image.
Additionally, Cricket has the ability to convert UV and NIR photons into green photons which can be detected by a standard camera. High 3 ns temporal resolution is made possible with an optional gating module. Cricket supports 1 μlx sensitivity or single photon counting.
Notably, multiple customization options are available including:
Photocathode: Choose from Photonis' Hi-QE photocathodes in the range needed for your application
Microchannel Plate: Photonis offers MCPs capable of 1 μlx sensitivity and can be configured in a number of formats including Chevron and Z-stack configurations.
Phosphor Screen: Select a high resolution P43 phosphor screen for effi cient imaging or a fast decaying P46 for high speed imaging applications.
Shutter: For time-resolved imaging, choose one of our electronic modules giving a 3 ns or 50 ns as minimum shutter time.
Power Supply: The Cricket comes with an integrated HV PSU, converting safe low voltages into the necessary internal high voltages. All PSU's come with external gain control, enabling you to optimize the dynamic range of your camera.