NOCTURN Digital Extreme Low-Light CMOS Camera
Featured Product from PHOTONIS Technologies SAS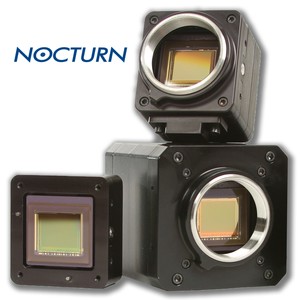 Day-to-Night Color Imaging that Extends the Vision of the Human Eye
NOCTURN Low-Light CMOS camera is optimized for low-light conditions without the need for supplemental illumination, offering a wide range of standard connectivity options for video management and dissemination in aerial and ground vehicles.
The NOCTURN family of low light cameras provides day-through-night imaging, capturing images in extreme lighting conditions from daylight through starlit darkness. Nocturn cameras are ruggedized, making them ideal for surveillance, security, and mobile applications such as border patrol, reconnaissance UAVs and armored vehicle perimeter monitoring. Optimized for size, weight and power (SWaP) requirements, Nocturn is also a well-suited imaging solution for man-portable uses such as weapon sights, helmet displays, and monoculars.
The Nocturn Color U3 model is powered by the proprietary Kameleon imaging sensor, a solid-state sensor that offers less than 4e- read noise, with SXGA (1280×1024) resolution at frame rates up to 100 Hz. The Kameleon sensor provides large 9.7µm pixels with microlenses for quantum efficiency in excess of 70%, providing high-resolution low light color images that extend the vision of the human eye. A monochrome sensor, the LYNX, is also available with the same level of sensitivity and performance.
NOCTURN is available in five models: XS for custom integration, XL with analog outputs, GE for Gigabit Ethernet, MD with a microdisplay and the U3 for USB3 connectivity.

Play NOCTURN Digital Extreme Low-Light CMOS Camera Video