Aerospace HDMI 2.0 Cables
Featured Product from PIC Wire & Cable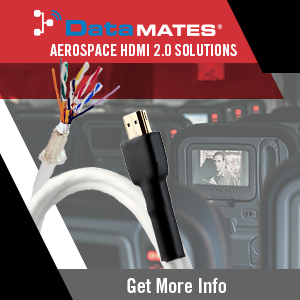 This HDMI 2.0 cable is ideal for applications including digital video, in-flight entertainment (IFE), glass cockpits, weather mapping radar, and electronic flight bag (EFB).
The cable is manufactured to transmit uncompressed video in aircraft where demand for higher resolutions are continually increasing. Our conductor insulation keeps wire pairs twisted together and allows for rapid stripping utilizing standard tooling. The overall diameter is minimized to provide a small bend radius and maximize flexibility. Additionally, the jacket is rugged, passing the abrasion testing of EN3475-503.
This cable meets HDMI 2.0 (18 Gbps) requirements and has been successfully tested at a distance of 5m:
• 4K @ 60Hz, Video Resolution up to 5m (16.4′)
HDMI-1926-9T is Skydrol resistant, RoHS compliant and meets the FAA flammability requirements of FAR Part 23 and 25, Appendix F.
Contact PIC Wire & Cable to inquire about pre-assembled, tested HDMI cable assemblies.