High Temperature Aerospace Cables
Featured Product from PIC Wire & Cable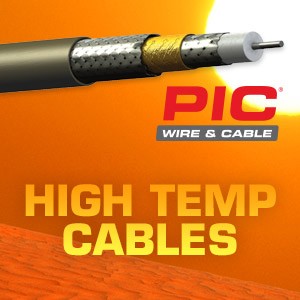 Our high-tech, high temperature cables are designed specifically for aircraft systems and other harsh environments.
Using the latest technologies and materials, PIC Wire & Cable's 50 ohm coaxial and 50 ohm triaxial cables are designed and manufactured to meet the most stringent electrical and mechanical performance criteria required for advanced electronic applications including lightweight, low loss, high flexibility, high EMI immunity, high temperature and high corrosion resistance. All are Skydrol resistant, RoHS compliant, meet the FAA flammability requirements of FAR Part 23 and 25, Appendix F and comply with MIL-C-17 as applicable.
For over 40 years, PIC Wire & Cable® has been a global provider of electronic cables, cable connectors, and cable assemblies and antenna gaskets for demanding military, corporate and commercial applications that include airplanes, helicopters, ground vehicles, rail transport and marine vessels. PIC cables, connectors and cable assemblies are widely specified for use in major aerospace and military systems throughout the world.