Low Loss, Flexible Coax & Triax Cable
Featured Product from PIC Wire & Cable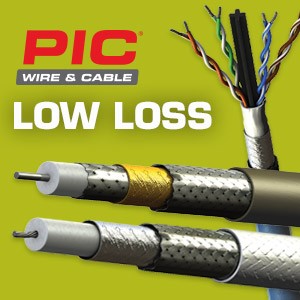 Coaxial Cables and Triaxial Cables Coaxial Cables - 50 Ohm
PIC RFMATES® 50-ohm coaxial cables are lightweight, flexible, low loss transmission, high-temperature cable. Our high-tech cables are designed specifically for aircraft systems and otherharsh environments. Most are constructed with silver-plated copper conductors and shielding. Most 50-ohm designs also incorporate extra shielding for superior EMI protection.
Triaxial Cables - 50 Ohm
PIC 50-ohm triaxial cables are also light to reduce fuel consumption and flexible. Our triaxial cables have low loss of transmission signal, low temperature rating as low -55°C & high-temperature rating up to 200°C and are designed specifically for aircraft systems and other harsh environments.
Aircraft Coaxial and Triaxial Cable
PIC Aircraft Cables and aircraft cable assemblies are widely specified for major avionic systems in commercial, corporate and military aircraft and all of them meet or exceed FAA flammability requirements. A test report is included with every assembly.
Low Loss Coax Cable
The low loss coax cable 50 ohm construction consists of 1.) an outer FEP jacket (clear) 2.) silver-plated copper shield, 3.) aluminum/polymide shield, 4.) silver-plated copper flat strip braid, 5.) PTFE Dielectric, and 6.) silver-plated copper conductor.