MACHFORCE Connector: 10 Ports 10G Ethernet
Featured Product from PIC Wire & Cable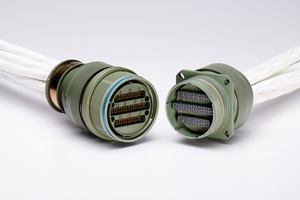 Features and Benefits
Reliable Electrical Performance and Multiple Disconnects with High-Speed Module
The patented high-speed module ensures continuous signal integrity through impedance control, data pair isolation and a unique shield termination design providing 360° grounding contact. The connector's optimized electrical performance allows for multiple disconnects.
10 Ethernet Ports for 10G Performance
The rectangular pin configuration maximizes shell size density and increases the amount of data transmitted per connector. It offers the highest number of ports in the market with 10 ports for 4-pair Ethernet cables to reliably achieve 10G performance. MACHFORCE is tested and qualified for use with PICMATES 10G Base-T CAT6a Ethernet cables.
Easy Termination and Field Repairable with Anti-Decoupling Ring and Standard Tools
The patented anti-decoupling ring reduces the mating force required for connector engagement and allows for easy connect and disconnect with a gloved hand. It permits quick access to the high-speed module for the easiest and most direct access to terminated wires on the market. In addition, usage of industry standard tools, 22D pins and sockets simplify termination and field repairs.