MicroMATES® 200°C High Frequency Cable
Featured Product from PIC Wire & Cable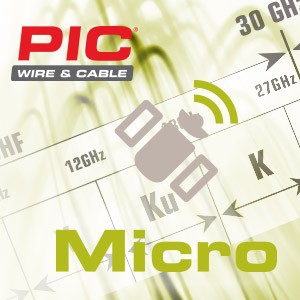 PIC MicroMATES® provide high bandwidth for data and support satellite communications. Like all our 50 ohm RF Cables, our High Frequency Cables feature minimum 200°C on all materials and with over 40 years of design and manufacturing expertise our high frequency cables reduce weight, decrease loss and improve EMI performance.
Designed specifically to serve Ku Band & X Band Applications, PIC MicroMATES
cables feature: Inner Flat Braid or Strip Braid; High Temp Polyimide Foil; Dual Braided
Shields; and Silver Plated Copper throughout-everything to make your job easier
and your platform more productive.