Isolator Glove Design & Materials
Product Announcement from PIERCAN USA, INC.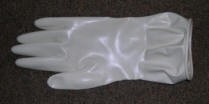 Isolator gloves are designed to work in both isolators and standard dry boxes. The combination that Piercan, USA sells consists of an isolator glove, their specially designed 3 groove connector, and an isolator sleeve.
These combinations are an economical approach to glove costs. You can change out the glove with out changing the sleeve! This helps reduce the cost of traditional 32" glove replacement. Most gloves wear out in the hand first, why change the total glove when a replacement glove is available?
You can also use different combinations of gloves and sleeves. For example, you can combine a Hypalon glove with a neoprene sleeve. Need more length? The overall length of their isolator and sleeve combinations are 37" +/- 2"!
The choices of combinations are endless!
---