A Dedicated Key for Any Character
Product Announcement from P.I. Engineering, Inc.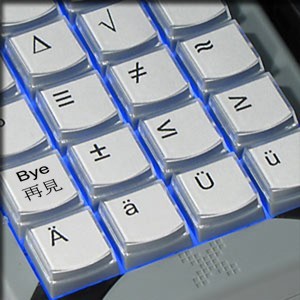 Accessing extended characters in applications can mean a trip through a labyrinth of sub-menus, or remembering and entering an extended Alt+number sequence, or switching in and out of another application, or switching OS language settings. X-keys offers a simple alternative that works in all applications which support Unicode. Once programmed, the key can be easily labeled and used across applications.
Our MacroWorks 3 software supports Unicode on all X-keys products but we recommend our XK-24 for this purpose.
Connects to the USB port just like a USB keyboard
Supports all Unicode characters
Works on Windows XP, Vista, and 7
---