Interactive Control for Any Display
Product Announcement from P.I. Engineering, Inc.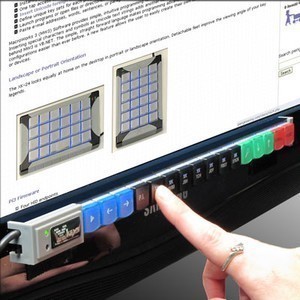 The X-keys XK-16 Stick turns any monitor into a fully customizable display terminal where your sales staff can quickly jump to product information, start demonstration videos, or page through a slide show.
Perfect for showrooms or waiting rooms. Offer your clients an interactive display, putting up to date information at their fingertips.
An X-keys XK-16 Stick with included software (PC or Mac) gives you complete custom control and lets you turn your favorite web browser into an interactive display. Sales personnel and customers won't have to hunt for the right keys on a full keyboard or fumble with an awkward pointing device.
Move your mouse over the image to simulate how pressing a key instantly changes browser pages on the monitor.
---