Reflector Messages Reach All Applications
Product Announcement from P.I. Engineering, Inc.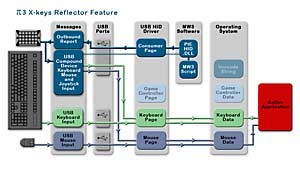 Pi3 firmware offers X-keys users and developers a broad range of alternatives for USB input.
Software messaging: keystrokes, mouse, Unicode, pre-defined scriptlets
Hardware messaging: keystrokes and mouse commands
Custom messaging: VB scripting
Reflector messaging: data is received as hardware keystroke or mouse message
Simultaneous messaging: any combination of above is possible
Keyboard, mouse, or joystick messages are reflected back into the PC at the lowest possible level, coming from HID USB Hardware. Even the most "reluctant" applications will not ignore messages coming from a USB keyboard or mouse. MW3 and our SDK support this new feature available in X-keys Pi3 devices only.
---