Companies can now try WL15 electrodes for free.
Featured Product from Plansee SE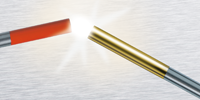 The gold-colored WL15 TIG welding electrode is thorium-free and ignites faster than the red thoriated WT20 electrode. Perform the test for free and request your three WL15 TIG electrodes.
This offer is available as long as stocks last. This special test offer is available only to businesses, not to private individuals.