Video of Allen-Bradley Test Cart
Product Announcement from Radwell International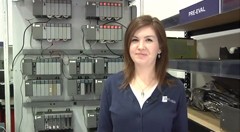 Video of Allen-Bradley Test Cart
In this video, PLCCenter.com, a division of Radwell International, is demonstrating one of its Allen-Bradley mobile test carts for programmable logic controllers.
The cart allows fast and accurate testing of a variety of Allen-Bradley PLC's.
The carts are used to test customers' repairs, and also to certify PLCCenter.com's surplus product. The cart tests the modules for greater reliability, making sure the customers' repairs or surplus items work properly before leaving Radwell / PLCCenter. All repair and surplus items are guaranteed with a 12 month warranty.
PLCCenter.com has over 1,800 different test fixtures and continually adds to its test capabilities as part of its Continuous Improvement Process.
CLICK HERE to see this informative video.
---