Gage and Measurement Management using GAGEpack
Service Detail from PQ Systems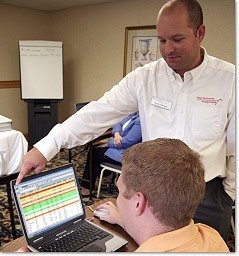 Regardless of the quality control initiative or philosophy your organization has adopted (Six Sigma, Baldrige, ISO, QS 9000, TQM, Deming, Juran, or something else), our quality management training services and materials can help you reach your organization's quality improvement goals.
We offer the following quality assurance training options:
Seminars and webinars for individual and group training, covering a wide range of quality management topics including training for PQ Systems' products.
Quality training software for learning classic quality concepts.
Books and videos for self-directed learning.
Customized quality assurance training and consulting
Customized quality assurance training and consulting to accommodate your organization's unique needs.
Purchase PQ Systems software & materials
Subscribe to our free monthly newsletter, Quality eLine. It offers quality improvement information, quality training tips, statistical process control help, gage R&R information, and more.
Have questions? Click to chat with one of our service and support staff