New Mobile App: GAGEmobile™
Featured Product from PQ Systems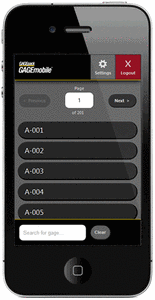 Users now have the freedom to view gage information without having to be at a computer where GAGEpack is installed, providing flexibility and saving time. The complete gage records are still maintained by GAGEpack.
Because the app is web-based, GAGEmobile is not limited to a particular operating system and gives users access to their gage database on iOS, Android, and Windows phones and tablets via the device's web browser. In addition, the GAGEmobile website interface can also be accessed using a web browser on desktop and laptop computers.
GAGEmobile is available free to all GAGEpack users with a current maintenance contract (versions 10.0 and up). If you aren't using the current version of GAGEpack, now is the perfect time to upgrade so you can enjoy the freedom that GAGEmobile provides. Contact us for more information.
>> Want to see GAGEmobile in action? We've set up a demo website with two sample gage databases. To access the demo website, download our short Getting Started Guide that provides an introduction to GAGEmobile and explains how to login.
Purchase PQ Systems software & materials
Have questions? Click to chat with one of our service and support staff