Services for an ASIC Project
Service Detail from PREMA Semiconductor GmbH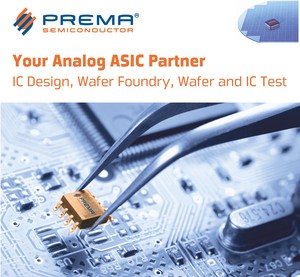 In a production hall with an area of 8000m², PREMA has all process steps required for prototype and high-volume wafer production inhouse. To offer quick prototype cycles we also have an e-beam mask writer that allows us to quickly proceed from layout data to first silicon. Also wafer probing and chip test are located in our building.
An adequate circuit design and a suitable semiconductor technology is required to produce analog ASICs that are fabricated into silicon wafers. Not every process tailored for digital applications is suitable for analog circuits.
The PREMA ModuS U6-Prozess enables the fabrication of varied analog and mixed-signal ICs with excellent properties.
The comprehensive library of different components offers designers reliable analog and digital circuits as complete cells. Thus the ASIC can be designed in a fast and safe way.
In conventional processes, interference caused by switching pulses of the digital part often needs to be suppressed by a complex design and layout.
PREMA´s Constant Current Logic (CCL) generates very little interference, provides lower disturbance, and therefore is ideally suited for mixed-signal circuits.
An ASIC design has to pass different stages:
specification and concept study
circuit design and specification
layout and design-rule-check
prototype production (first silicon)
evaluation of prototypes
series release
production mask writing
development of production test
series production
PREMA offers all engineering and production services in this flow.
http://www.prema.com/index.php/en/asics-en/the-path-to-an-asic-with-prema