PR 3000 series - temperature transmitters, etc.
Product Announcement from PR electronics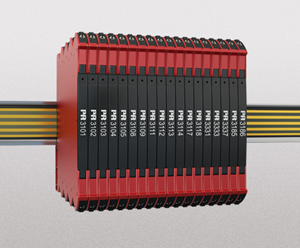 PR electronics' compact, fast and high-quality 3000 series of 6 mm isolators, converters and temperature transmitters provides you with exceptionally high, safe signal isolation, no matter the type of signal.
The devices can be stacked both vertically and horizontally with no air gap separation required accommodating up to 330 channels/meter.
Achieve precise measurements, even under changing ambient temperature conditions
The PR 3000 series is designed and rated to operate between -25 oC to +70 oC and have a temperature coefficient better than 0.01% - which mean that you can achieve precise measurements, even when the panel is exposed to wide variations in ambient temperature. You can continue to rely on the output signal, with no need to re-calibrate your device.
Expect smart performance - and low cost of ownership
All isolators offer extremely high isolation levels of up to 3.75 kVAC and exceptional electromagnetic noise (EMC) immunity - utilizing PR electronics' patented STREAM SHIELD technology to provide high basic accuracy, low power consumption, and maximum protection against error due to EMC.
Install & Forget
All devices are individually validated to exceed the most demanding failure rate assessments and are backed by comprehensive technical documentation and a 5-year warranty. Approved for installation in zone 2 / div. 2.
PR 3000 series - download brochure.
More information and introduction video at www.prelectronics.com/new3000series
---