Creo 2.0 Academic Edition - One Year Term License
Product Announcement from PTC - University Program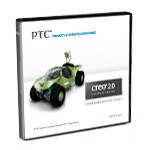 We are pleased to announce the release of Creo 2.0 Academic Edition - One Year Term License.
Get ready for school early this year and take advantage of the new features included in the Academic Edition that are not included in any previous Student Editions:
ECAD-MCAD Collaboration Extension - Provides the necessary tools for a collaborative design in real time between Mechanic CAD (MCAD) and Electronic CAD (ECAD)
Complete Machining - Programming machining paths in 5-axis milling, turning, multi-axis turning centers, wire EDM 4 axis, with the use of direct and associative of Creo Elements/Pro models.
Computer-Aided Verification - Allows digital inspections of machined parts and assemblies for quality assurance.
Learn more about the full features
Learning Creo prepares you for careers in the world's most successful companies. With 600,000+ seats of active software, Creo users are five times more likely to be hired by businesses with exciting opportunities for young engineers beginning their careers.
---