Creo View Lite
Product Announcement from PTC - University Program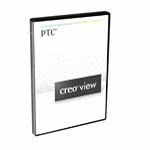 Creo view Lite - PTC's unsurpassed visual collaboration software
Purchase today for $595 at the PTC Webstore
Creo View Lite (formerly ProductView) allows you to immediately realize the proven performance of PTC's industry-leading visualization solutions today while putting you on the path to achieve break-through productivity gains with Creo.
Improve Quality and Reduce Development Cost:
· Reduce the potential for rework through effective, collaborative markups of models and documents
· Replace error-prone and inefficient paper-based processes with web-based markup and distribution tools
A browser plug-in, Creo View Lite automatically installs and administers itself the first time it's needed. With its compact, yet accurate 3D viewable format, complex information can be quickly accessed to reduce rework and improve decision-making.
More details, please visit PTC Web Store
---