Mathcad Prime 1.0 Student Edition
Product Announcement from PTC - University Program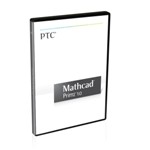 Advance Your Engineering Calculations Power with Mathcad Prime 1.0!
Mathcad is engineering calculation software that drives innovation and offers significant personal productivity, process improvement and collaboration advantages for product development and engineering design projects. Unlike proprietary calculating tools and spreadsheets, Mathcad lets engineers design and document engineering calculations simultaneously with comprehensive applied math functionality and dynamic, unit-aware calculations.
The skills you develop from using Mathcad Student Edition will be immediately transferable to the professional world!
Plus everyone who purchases Mathcad Prime 1.0 will receive Mathcad 15.0 M005 - that's two for the price of one! Go to the Comparison Chart to choose the Mathcad version that is best for you.
Key Features of Mathcad 15.0
Improved usability and discoverability - Re-designed task-based interface improves usability while also enabling users to learn unfamiliar functions or features quickly and easily.
Document focused, engineering notebook feel - Document-centric calculation environment enables creation of complex, professional engineering design documents quickly and easily, using live standard math notation with text, images and graphs. This environment allows users to concentrate on creating engineering content with less time spent on formatting the document.
Advanced Math Exploration - Mathcad Prime 1.0 provides an environment to display, manipulate, analyze and plot data with full units support throughout the application. This allows users to quickly and easily create calculations for testing before committing them to a design.
Backward compatibility - You can use engineering worksheets saved in previous versions of Mathcad. Mathcad Prime 1.0 can convert most data in older Mathcad worksheets back to version 7.0, minimizing any work to recreate calculations and worksheets. Instant feedback by the converter provides a summary of each worksheet brought into the application and flags any specific compatibility issues where functionality is not matched.
Intuitive equation editor - WYSIWYG (What You See Is What You Get) equation editor allows users to express problem constraints and solutions in natural math notation. Users can focus on the calculations and spend less time manipulating the document. Use of natural math, enables creation of understandable documents that can be shared with novice and non-Mathcad users.
Robust support for units - Users will experience full support for units throughout all calculations created in Mathcad Prime 1.0. This translates into reduced errors and higher accuracy of results, more precise communication between engineers and teams which improves process efficiency in product development.
Rich library of numeric functions - provides a toolbox of over 600 ready-to-use functions that enable users to tackle any computational problem, ultimately saving time and effort, which results in completing the project sooner.
Windows 7 support
System Requirements
Check the information below to ensure that your hardware configuration meets those certified for Mathcad:
Pentium-compatible 32-bit (x86) or 64-bit (x86-64, EM64T) processor - 400 MHz or higher; 700+ MHz recommended
Windows 7 (64- or 32-bit), Windows Vista (64- or 32-bit), Windows XP Professional (including 64-bit), or Windows XP Home
256 MB of RAM; 512 MB or more recommended
1.75 GB of hard disk space (300MB for Mathcad, 100MB for prerequisites, 1.4GB temporary space during installation)
SVGA or higher graphics card and monitor
Mouse or compatible pointing device
Eligibility Information
Mathcad Prime 1.0 Student Edition is available to current students or full-time faculty members whose intended use is for personal learning (not for teaching or research). Not available for labs or institutions. Academic ID is required for purchase.
Education Policies
Student Edition
For use on student-owned computers, class work only.
Professor Edition
For academic (non-commercial) research and/or teaching use only.
University Edition
For use on university-owned computers, class work only (no research).

Accepted Academic ID includes:
Valid Student ID
Valid Faculty ID
Letter or Registration Form from an accredited academic institution to confirm enrollment in a minimum nine-month certificate-granting program
Recent faculty/staff payment stub
Advance Your Engineering Calculations Power with Mathcad Prime 1.0!
---